I'm always searching for strange indie games and, yesterday, I found this small treasure:
STILSTAND
. Well, in fact it's not a game per se; it's a kind of a dark, whimsical, and absurd interactive comic created by artist Ida Hartmann, exploring the despair and loneliness of a young woman living alone through a long summer in Copenhagen. You can check the trailer below:
The plot is simple, but the narrative is immersive and full of current issues from contemporary society. Amid the desire for isolation, there's still a hope that one day, things will change for the main character. To reach this, she will receive some help from a bizarre shadow monster that lives in her apartment.
STILSTAND
is a personal and hand-drawn tale about the high expectations and the fragile limbo of feeling stuck in life. It is a whimsical and absurd portrayal of anxiety, loneliness, and despair, and brings the player along on an adventure into the emotional landscape of a lost soul.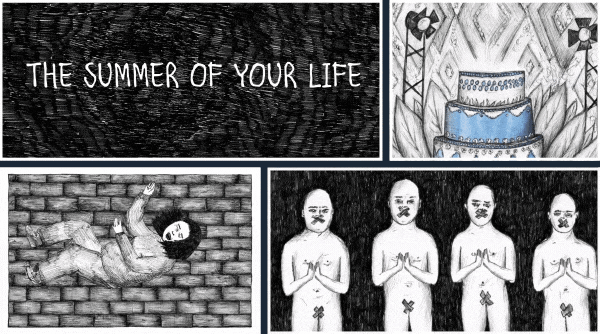 As I mentioned, it's more a visual novel with a comic book layout structure. Most of the time you only click on the screen to move forward the dialogues/situations. Sometimes, there are few small puzzles very easy to decipher – but this is not the core of the game.
STILSTAND
is one experience to enjoy slowly and think about the crazy times we are living in.
Thirty-seven years ago, when I got my first video game (Atari), games were only about monsters, shootings, car racings, puzzles etc. Little Vince, at that time, never thought that, one day, he would play games with themes like depression, suicide, dementia etc. As I always say: games are media and part of contemporary culture. Games are mediums of expression and powerful platforms to send serious messages, too.
Thanks to the indie gaming industry for bringing us an exotic experience like this one. Not only an experience of entertainment, but a product that brings us to reflect about some common problems around us.
---
•Platforms: iOS, PlayStation 4, Android, Microsoft Windows, macOS, Nintendo Switch, Macintosh operating systems
#GoGamers